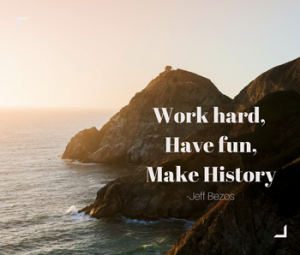 We love working with all of our clients, no matter how big or how small. Each client offers a new opportunity to match quality talent to a great organization. Each client offers new opportunities, new challenges (we LOVE challenges) and new people. Have we mentioned that we love our clients?
We are incredibly proud to have had the opportunity to uncover executive level talent for Amazon! The Talent Acquisition team at Amazon went so far as to send us the letter of recommendation below. Thanks for making us blush, Amazon!
---
Dear Sir/Madam,
I am writing to recommend Renee Frey along with her company, TalentQ, for recruiting services. During her time with my team, she was responsible for recruiting executive level talent in Safety across North America. She passively sourced all of the talent and conducted interviews.
Renee is extremely flexible and able to quickly adapt to new processes and systems. She was asked to learn three new systems while working at Amazon as we transitioned our candidate management tools, and she was an early adopter with a great attitude. She even helped colleagues organize their pipelines.
Another strength of Renee also lies in strategic sourcing. She really thrived incorporating research into her sourcing strategies and was a vital business partner for the research team, providing advice to junior staff members.
Finally, she was also very effective at candidate conversion. She was able to speak with executive candidates confidently and use her strong power of persuasion to convince them to apply at Amazon.
I highly recommend Renee and TalentQ for any recruiting engagement.
Sincerely,
Leader of Talent Acquisition | Amazon Worldwide