Now that I have your attention… 😊
This past Tuesday my mom Roberta, my sister Delrene and I, had the opportunity to attend the 1st ever American Sign Language (ASL) tour at Surly Brewery in Minneapolis, MN.
Pretty cool right!?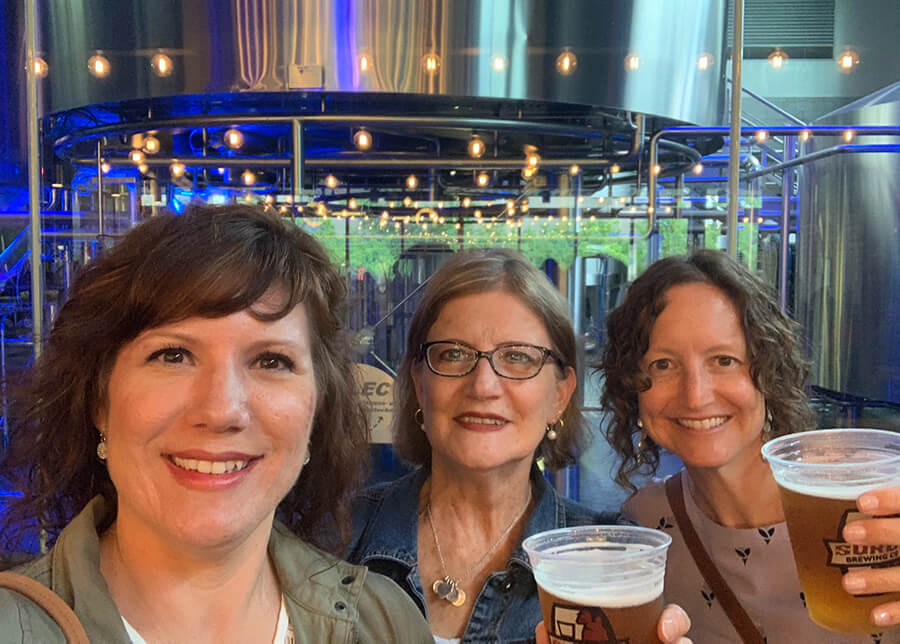 Learn how to brew beer ✔️
Socialize with the ASL community ✔️
Spend time with my mom and sister in celebration of my mom's 70th birthday ✔️
SIGN ME UP!
Fun fact about me and my family – is that my mom Roberta is Deaf and we communicate through American Sign Language.
Soooo heads up, if we meet in person I make BIG hand gestures 😊. (When I'm doing my speaking events I often have to warn the camera man to widen the lens to keep up me)… That's just intuitive to me when communicating through ASL.
All kidding aside, sharing this experience with my mom and sister meant the world to me.
Working in the Supply Chain industry it was a thrill for me to see the ins and outs of the Surly facility and how they brew, package and distribute their product….
Did you know that founders of the brewery came up with the name Surly because they were angry and frustrated at the inability to find good beer in MN?
That hit close to home. They did not settle for status quo – they took action.
As a recruiter who worked in a search firm for many years, who then moved on to recruit for one of the largest retailers in the country 🎯, who now owns a nationwide recruiting firm….
I too was frustrated and had to do something about it.
I was frustrated with the same old way everyone was recruiting. Recruiting methods were not progressing with the changing markets and demographics and I knew there had to be a better way.
The more I was exposed to recruiters the more I realized how a large portion of them were simply in it for the money. I was seeing a lack of communication. Unethical practices in an effort to make a quick commission check.
I was overwhelmed and beyond frustrated with the bullsh*t I was seeing on the daily.
Recruiting was and continues to be my chosen career. When I see my kids off at the school bus in the morning, I don't head to the office to do a sub-par job until it is time to greet them when they return home from school. What a waste that would be.
I head in to the office with genuine excitement and passion to improve the recruiting process for everyone involved. Fighting against the stigma of shady headhunters is exhausting….like climbing Mount Everest. But it's worth it – and is why I started TalentQ.
Setting an example for my girls, my TalentQ family and building long term relationships with candidates and clients makes the uphill climb worth every step.
It was my dream to be the most cutting edge recruiting firm in the nation. With a big dream, a lot of grit, undying passion, determination and support from the family – I did just that.
4 years and going strong. And we have earned the trust of organizations across the country including Amazon, Ulta, Mortenson, etc. The list goes on.
With our 18 Step Search & Selection Process, the Behavioral Interview Differentiator and our commitment to provide qualified candidates within 10 days – we are doing just that….revolutionizing recruiting.
If you have frustrations related to talent acquisition, you're not alone. I've been there too. And I promise there are loads of other hiring leaders who are experiencing similar frustrations.
Everyone is applying to your job, but no one is qualified…
You are working longer hours to make up for the vacancies on your team….
You find yourself sifting through piles of resumes…
You are losing out on candidates to counter offers….
the list goes on…and on and on and on…you're probably ready for a beer just thinking about it 🙂
I assure you, there is a solution and I would love to brainstorm with you and share ideas on how to elevate the level of talent within your organization.
Here is my number, you are welcome to give me a call – 612-844-0278 or click the link below to schedule a time that works for you: https://go.oncehub.com/ReneeFrey
So let's raise a glass to:
🍻 Surly Brewery for supporting the ASL community
🍻 The loyal clients of TalentQ who continue to put their trust in our partnership
🍻 Our friends and families who provide unconditional support (Happy 70th Mom!)
🍻 Never settling for status quo
As the brewery says, "Don't Settle, Get Surly".
Look forward to connecting in the near future!
Cheers,
Renee
P.S. Next Tuesday, June 18th at 12pm CST I will be featured on Regina Barr's & Women At The Top's podcast – I will be discussing my book, "I Hate Mondays! A Guide To Landing A Job That Makes You Jump Out Of Bed." Register HERE to listen in.