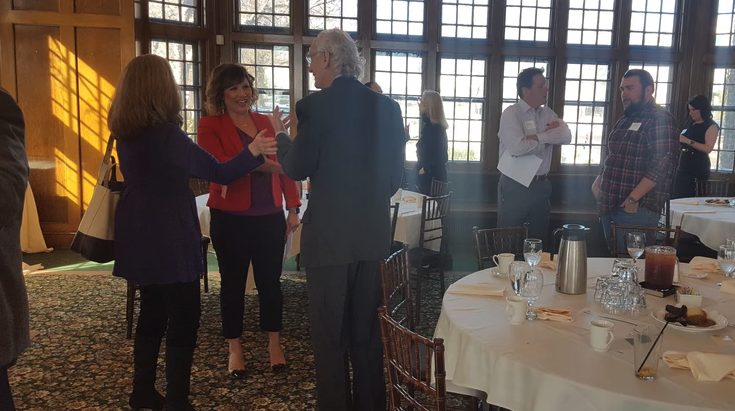 If you know me personally or professionally, it's a safe bet that you know I have the energy that can blow the roof off of any room and I LOVE people (….and wine)!! I was incredibly honored to have the opportunity to speak at Club E's latest St. Paul event! Speak to a room full of industry leaders on how to attract quality talent, eat a delicious lunch at the University Club and the opportunity to meet new people – SIGN ME UP!
I left the event feeling energized and motivated to further my reach of helping both hiring leaders and job seekers. After all, that is why I started TalentQ almost 3 years ago. I left a Fortune 500 company to bring a fresh approach to recruiting, and most importantly to put PEOPLE before revenue! And it has been an incredible journey ever since!
As I reflect on the past year, here are just a FEW of the highlights that come to mind:
TalentQ became certified as a Women's Business Enterprise
My book "I Hate Mondays, A Guide to Landing a Job that Makes You Jump Out of Bed" is now available for purchase!! Get your copy here.
We moved to a larger office in downtown Hudson to support our growing team
We have even bigger plans for 2018! Over the coming days, weeks and months I am going to be sharing industry secrets for job seekers and hiring leaders right here on this platform! So please continue to check back!
For HIRING LEADERS, by now you are probably feeling the pain of the low unemployment rate! You are not alone! The war on talent is real! Now more than ever, it is incredibly important to button-up your recruiting process and move fast as many candidates have several offers on the table. I would love to set up a 30 MINUTE COMPLIMENTARY CONSULTATION. In that time, I'm happy to address your hiring concerns and brainstorm ideas that can be put into action TODAY! Email info@talentQ.net to get scheduled!
For the JOB SEEKERS out there, I wrote my book just for you! "I Hate Mondays, A Guide to Landing a Job that Makes You Jump Out of Bed." It is a step-by-step guide that provides you tips and tricks on how to set yourself apart in your job search. Also, if you are interested in a more personalized approach to your search, visit TalentQ's website to learn more about the career coaching available! https://www.talentq.net/job-seekers/
Cheers to loving what you do!
Renee