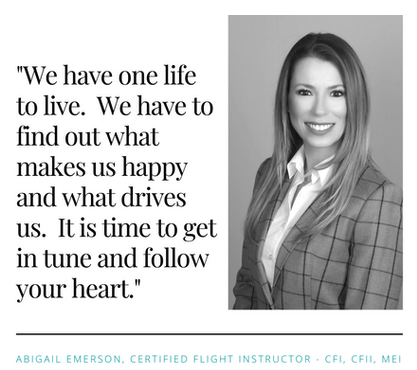 Did you catch my podcast episode last week, featuring Abigail Emerson who arguably has the best office view in the world…? I
f not, you can catch the video recording HERE  or listen in to Careers & Cocktails on your favorite podcast app.
Abigail had an important LOUD and CLEAR message…..
We have ONE life to live and there is no better time than NOW to seize the day!
[I'll cheers to that Abigail🥂!]
Like MILLIONS of others, Abigail found herself considering a change but was leery…
Maybe it's just not the right time…..
Maybe it's too late to make a change….
The timing doesn't seem perfect….
I'm not in the right place in life….
Too many people are depending on me, what if it doesn't work out….
Abigail put in the work, dove deep and worked to overcome her self-doubt and take control of her career.
And like Abigail, you can too.
Listen in for your morning boost of motivation and to learn more about Abigail's incredible career journey in aviation ✈
Let's collectively give a 'Cheers' to Abigail for getting in the 'Pilot's' seat of her career and following her heart💓
Truly an inspiration.
PS…If you share those similar 'maybe/full of doubt' feelings, i'm happy to hop on a quick call to share some resources. You can schedule directly here.
Cheers,
Renee